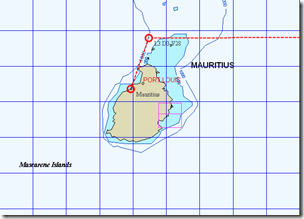 | | | |
| --- | --- | --- |
| Current Position | 15:00 | UTC +4 |
| Course over Ground | | Degrees |
| Speed over Ground | | Knots |
| Speed thru Water | | Knots |
| Heading | | Degrees |
| | | | |
| --- | --- | --- | --- |
| Position | Direction | Degrees | Minutes |
| Latitude | South | 20 | 09.508 |
| Longitude | East | 57 | 28.939 |
| | | | | | |
| --- | --- | --- | --- | --- | --- |
| Distance Remaining | 0 | Nautical Miles | Sea Surface Temperature | 21.4 | Degrees C |
Image of the Day: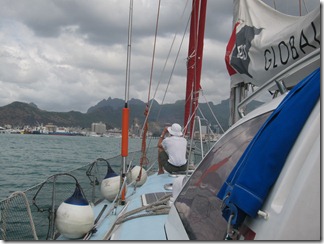 Highlights:
We arrived in Mauritius this afternoon and will be here for a little over a week; tentatively sailing on Monday the 26th.
Reflections:
It's great to be back to this beautiful place and I can't wait for a shower and a meal! 
I'll be updating the blog over the next few days on previous days, but won't take too much time away from the R&R to do this.
2011 09 17