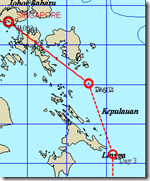 | | | |
| --- | --- | --- |
| Current Position | 08:00 | Singapore Time |
| Speed over Ground |   | Knots |
| Course over Ground |   | Degrees |
| Heading |   | Degrees |
| | | | |
| --- | --- | --- | --- |
| Position | Direction | Degrees | Minutes |
| Latitude | South | 00 | 22.69 |
| Longitude | East | 105 | 05.47 |
Image of the Day:
Michael steering the boat and feeling very nautical…
Highlights:
We crossed the Equator this morning between 6-8, just off Cape T. Jeng.  It was a bit of a nonevent as most of us were sleeping… 

We've Good winds now and are moving quickly. 
Reflections:
Finding harmony amongst 8 people of multiple generations on a 50ft boat takes time and has its challenges.  For me, just being able to sit out here, alone on the water makes it all worth it.  People are people and getting lost in their stuff leads nowhere.  I have the right to chose my own experience as well as to positively influence how things go here – make it happen!