| | | |
| --- | --- | --- |
| Current Position | 08:00 | Singapore Time |
| Speed over Ground |   | Knots |
| Course over Ground |   | Degrees |
| Heading |   | Degrees |
| | | | |
| --- | --- | --- | --- |
| Position | Direction | Degrees | Minutes |
| Latitude | South | 03 | 17.16 |
| Longitude | East | 106 | 18.75 |
Image of the Day: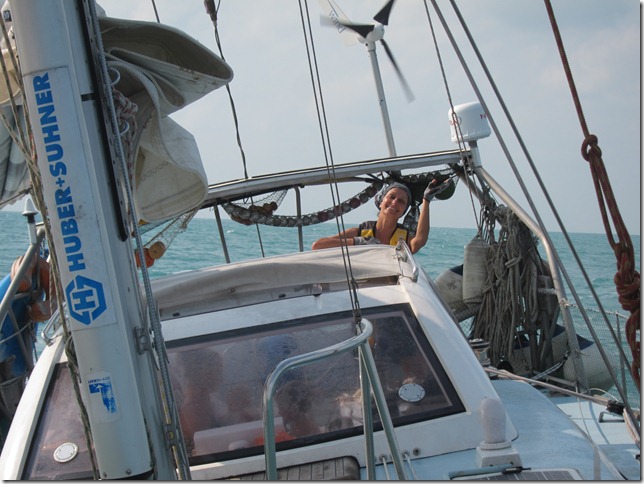 Dominique's feeling much better and the sea's are kicking it – like you wouldn't believe!
Highlights:
Windy Day as we came out into Five Fathom bank – uncomfortable heading and lots of little bumps in the way – a leaking hatch soaking me with a big wave – harsh wake up from deep sleep, backed up head, etc.

At dusk, barely light, we steamed into 20-30 small fishing boats with no lights – freaky –scary, followed by a night full of fishing nets, tugs with monster barges and friendly ships…. 
Reflections:
It's strange how perspective and sense of direction can be altered by the night. Ship's lighting is consistent (fishing boat's not) – yet motion is not always clear.