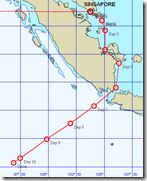 | | | |
| --- | --- | --- |
| Current Position | 08:00 | UTC +8.0 |
| Speed over Ground | 6.0 | Knots |
| Course over Ground | 240 | Degrees |
| Heading | 186 | Degrees |
| | | | |
| --- | --- | --- | --- |
| Position | Direction | Degrees | Minutes |
| Latitude | South | 11 | 42.909 |
| Longitude | East | 097 | 29.711 |
Image of the Day:
Arriving at the anchorage at North Island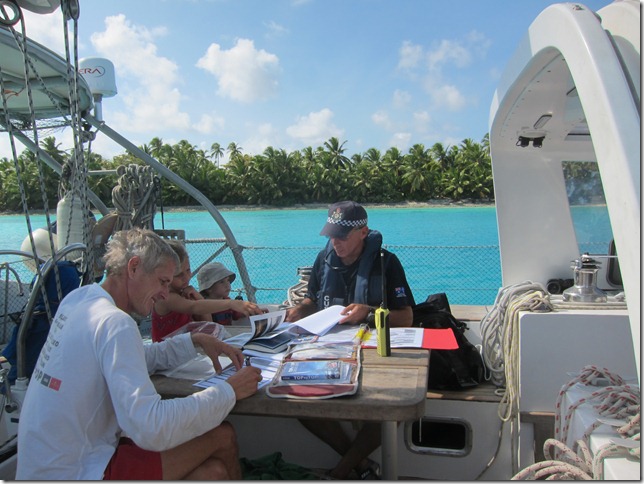 Clearing Australian Customs, well almost…
Michael picking coconuts in Cocos Keeling
Cycles of Life
Sunset from the water –  over Cocos Keeling
Highlights:
We arrived in Cocos Keeling about about 3pm yesterday – came in anchored off the Direction Island, at the north of the atoll with a half-dozen other boats.  Very nice Australian customs official had us fill out mountains of paperwork and then sped off on his jet ski.  Not a bad job…  we then put the dingy in the water and paddled into the beach to wander, play in the sand and swim.  Dreams of showers and steaks forgotten – there is NOTHING HERE!  but boy is it beautiful!!!
Reflections:
I sat for a long time the other night and though my mind cleared and calmed for a while it still was jumping around like a racehorse. It's a problem solving machine and in spite of myself in this quiet moment I did solve a few problems. 

I'm ok with this and wont' lose sleep over failed meditation resulting in good progress elsewhere