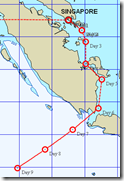 | | | |
| --- | --- | --- |
| Current Position | 08:00 | Singapore Time |
| Speed over Ground | 7.1 | Knots |
| Course over Ground | 240 | Degrees |
| Heading | 181 | Degrees |
| | | | |
| --- | --- | --- | --- |
| Position | Direction | Degrees | Minutes |
| Latitude | South | 10 | 02.446 |
| Longitude | East | 099 | 50.637 |
Image of the Day:
Dario and Sabine share a quiet moment together at dawn while the kids are a sleep and just before I take my morning watch.
Highlights:
Spent the day on the computer today – first time really and though I have sought to avoid helping out with some video editing as well as writing the trip report for Dario to post on the www.TOPtoTOP.org web site for Leg 1 got the better of me.  There is no way that I want to be spending too much time at Cocos in front of the machine rather than wandering, exploring, surfing, etc.  We'll have less than 24 hours there, if that and much work to do for the boat as well as a clean-up planned with the local school, so the time will be full. 

I'm really looking forward to taking my second shower in that last 2 weeks – and a fresh water shower at that!  Washing, or at least rinsing my cloths will be a real treat as well as perhaps having a nice piece of grilled meat…
Reflections:
After living in Paris for nearly 3 years back in the early 1980's I went to say goodbye to my friends and teachers Jose & Michel at their apartment. 

Jose wished me: "Bon Vent !"

Michel retorted with: "Le bon vent n'a pas de sense si on ne sait pas ou on va ?"

I've thought of this a lot these past days for multiple reasons.