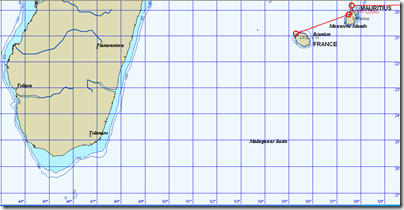 | | | |
| --- | --- | --- |
| Current Position | 05:45 | UTC +4 |
| Course over Ground | 226 | Degrees |
| Speed over Ground | 5.0 | Knots |
| Speed thru Water | n/a | Knots |
| Heading | 250 | Degrees |
| | | | |
| --- | --- | --- | --- |
| Position | Direction | Degrees | Minutes |
| Latitude | South | 20 | 53.904 |
| Longitude | East | 055 | 17.555 |
| | | | | | |
| --- | --- | --- | --- | --- | --- |
| Distance Remaining | n/a | Nautical Miles | Sea Surface Temperature | 22.9 | Degrees C |
Image of the Day: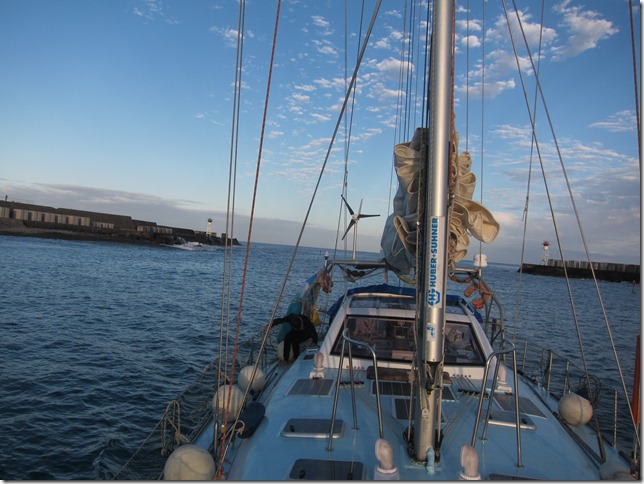 Heading back in at Pointe des Galets, La Reunion, France
Highlights:
We had a rough 20+ hour sail from Mauritius to here, with most of crew quite sick,  a failing autopilot in heavy seas and wind causing random jibs and other scary moves, plus a holding tank which needed clearing, so early this morning we ducked into the harbor at Pointe des Galets for a quick rest and hopefully some quick repairs.  This really is our last chance before the crossing to Africa, which seems to be continually challenged by high seas and winds.

Check this out via downloading zyGrib a very handy piece of software for viewing Grib files (weather data).
Reflections:
I wish we'd kept going…