Image of the Day: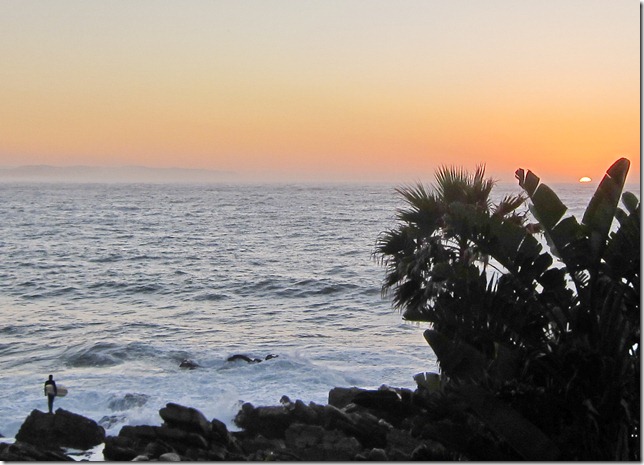 Looking East at sun rise, prior to leaping into the Indian Ocean – Victoria Bay, South Africa
Highlights:
What we've accomplished:

Realized a childhood and lifelong dream
Sailed 5,283 nautical miles from Singapore to Richards Bay, South Africa in less than 3 months
Visited 4 island countries (Cocos Keeling, Australia; Rodrigues; Mauritius, Isle de la Reunion, France; as well as South Africa
Completed 6 "clean-ups" with local communities along the way, plus several of our own
Met with multiple schools and school children along the way in each place we landed, to raise environmental awareness.
Read or listened to at least a dozen books
Composed a few new songs
Strengthened the relationship between Dominique and I
Met, worked and played with some amazing people.
Worked through multiple personal issues related to the sea, sailing , surfing,climbing mountains, children,  human relationships and so much more…
Shot close to a thousand photos – greatest hits to be posted in the coming days…
. . .
Pachamama's ship track with daily way-points from Singapore to Richard Bay, South Africa
Reflections:
After 5,283 nautical miles by sea over a period of close to 3 months and now back in Singapore having leapt back into the fray of work, with the calendar year ending and midyear Review (MYR) pending, I am challenged to come up with succinct and profound concluding statements for our Indian Ocean Crossing with www.TOPtoTOP.org on the Pachamama.  This will perhaps come through time over the coming months or year, so stay tuned…

The short version: it was time well spent!